Marisa de' Spagnolis, Ten years in Pompeii and in Sarno Valley. Experiences and feelings of an archaeologist, Editoriale Franco Alfano, Nocera Inferiore 2006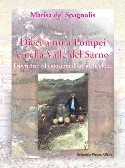 Ten years in Pompeii and in Sarno Valley. Experiences and feelings of an archaeologist tells the story of an unique and almost magical adventure, lived by a woman archaeologist who moves from Rome to Pompeii for family needs and there she remains for over 10 years (1987-1997). The author lives in the archaeological area with her family and works for the Soprintendenza archeologica of Salerno in the impressive Sarno Valley.

The area of the Sarno Valley had always been considered poor compared to the nearby Pompeii but she finds out that it is instead, full of archaeological and unexplored interest.

Her life passes through the slow days of the so called quiet street of 'S. Paolino' and the families who lived there too, her work on the territory and her social life as wife of the Pompeii excavation Superintendent.

The book offer the archaeologist 'behind the scenes', the emotions, feelings, hopes and wonders of discoveries that only a place buried from the eruption of the Vesuvius in 79 a.C. can give. Part of the book tells about the discovery of small farms that used to make wine, found in the western suburb of Pompeii. In the same area it has been found the tomb of Satrio Lucrezio Valente, the richest man in Pompeii at the time of Imperator Nerone.

Containers full of flour, nuts, broad beans, threes roots, bronze, animal's skeleton has been discovered almost as a whole thanks to the lapillus that sealed most of the Sarno Valley territory. Also in the territory of Nuceria thanks to the lapillus it was possible to find a roman monumental necropolis of the I century b.C. together with funeral buildings of giant dimension. Along them the sepulchres of the Numisii, Cornelii and Lutatii families.

A lot of excavations, as well as a lot of people that the author meets during her life in Pompeii described in a simple way to be understandable to everybody who loves archaeology.

This book is made of 128 pages, 59 colour photos, and its cost is € 20,00.

For any information and to buy the book go to www.editorialefrancoalfano.it.